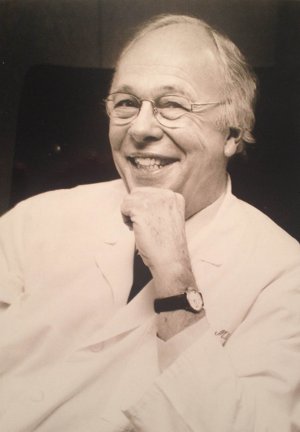 William Revere Kinkel MD, FAAN, FASN, was one of the founders of the Society of Neuroimaging, which was started in Buffalo, NY, on September 24-25, 1976. Dr. Kinkel brought the third ever CT scanner to America, the fourth in the world. He has been passionate about teaching Fellows to read the images created ever since. Dr. Kinkel still teaches Residents and Fellows how to read and evaluate CT, PET scans, MRIs, MRAs and other types of images at the University of the State of New York Medical School at Buffalo. Scans are sent to him by former students from all over the world. His lifetime of experience has helped him diagnose many complex cases and to change the diagnoses of many less-experienced clinicians. Many thousands of patients have benefited from his skill and knowledge. The field has grown exponentially in the last decade because of sports injuries and war wounds.
In 1963, Dr. Kinkel founded the Dent Neurologic Institute in Buffalo. He developed the first Neuroimaging Fellowship Program in the world at the Dent. Later, he developed a second Fellowship Program for the University Medical School at Buffalo at Buffalo General Hospital (part of the Kaleida Health System). These two Neuroimaging Programs are two of only six such programs in the United States. Every medical student who wishes to obtain board certification in the Subspecialty of Neuroimaging must complete a one-year fellowship in a program approved by the United Council of Neuroimaging Subspecialties. Students come from all over the world to study with Dr. Kinkel and in turn, train future neuroimagers. Many of them go on to treat patients at the Dent, which is now the largest neurologic clinic in the world, seeing over 800 patients a day.
On Friday, January 21, 2017, Dr. Kinkel was given the first ever Lifetime Achievement Award by the American Society of Neuroimaging at its 40th Annual Meeting at the Luskin Conference Center at the University of California, Los Angeles.
Dr. Kinkel teaches at the Jacobs Neurological Institute, Buffalo General Hospital.